Abseiling 3 - Advanced Abseiling Course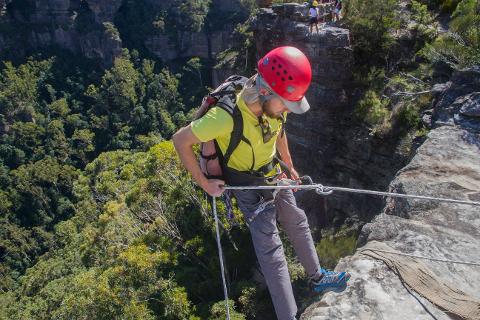 Duration : 2 Days (approx.)
Location: Katoomba, NSW
Product code : Abseiling3
This trip runs with a minimum of 2 participants- We suggest booking in with a friend to ensure you get to attend on your preferred date!

If you don't receive an automatic confirmation, you are likely the first booking for this activity- Please call us on 0247 822 014!
Please note: this 2 day course includes Abseiling 2.

If you want to become a more skilled and technically experienced abseiler then this course is the next step!
The ASM Advanced Abseiling Course is a combination of the Advanced Abseiling Course & Abseiling Rescue Skills Course. The Advanced Abseiling Course is ideal for individuals who wish to take a more active role when participating with others in group abseiling activities.

We start with a short review of your existing abseiling skills and knowledge and then proceed to the more advanced instruction.

This 2 day course covers:
selection, fitting and use of abseiling equipment
selection and rigging of suitable anchor systems and single pitch abseils
hazard identification and avoidance
risk management strategies
self-belaying methods
belay techniques for abseiling
dealing with emergencies such as a "stuck" abseiler
basic rescue and self rescue systems.
Rope handling
Ascending Using Knots, Mechanical Ascenders and Improvised Methods
Improvised Abseiling Methods
Assisted Abseils
Rescue Abseils
Lowering and Raising systems
Improvised Casualty Evacuation methods.
This course will give you advanced skills to ensure you can conduct your own adventures and make informed decisions to keep safe in vertical environments!
We provide all specialist personal and group abseiling equipment including harnesses, helmets, etc. After we process your booking an information sheet detailing specific equipment and dress requirements will be sent to you.


Lunch is also provided on this adventure- Please be sure to inform us on your booking form if you have any special dietary requirements!