Rock 1 - Women's Introductory Weekend Course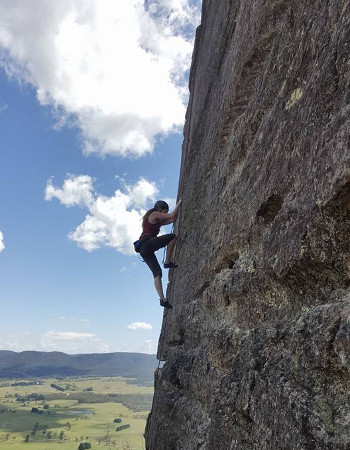 Duration : 2 Days (approx.)
Location: Katoomba, NSW
Product code : Rock1Womens
This trip runs with a minimum of 2 participants- We suggest booking in with a friend to ensure you get to attend on your preferred date!

If you don't receive an automatic confirmation, you are likely the first booking for this activity- Please call us on 0247 822 014!
More and more women are drawn to climbing, and it's easy to understand why. Although women don't usually have the same physical strength as men, women have other strengths that this course will bring out in your climbing. The Women's Rock Climbing course has a strong focus on technique to help you get up climbs you never thought possible.
Your female climbing instructors will start with the basics from safety and equipment, to belaying and rope skills. They will progress you through climbing techniques to encourage efficiency, energy conservation, and fluidity. Over the two days you will climb varying route styles to develop techniques and challenge yourself.
Whether you are completely new to climbing, or you climb in a gym and want to make the transition to climbing on real rock, this course will teach you the fundamentals of rock climbing. It's also a great opportunity to make new climbing connections with other women.
The Women's Rock Climbing course includes:
Principles of movement on rock and technique development
Understanding various climbing styles
Tips on your individual strengths and weaknesses and how you can work with these
Climbing equipment
Knots and rope handling
Belaying systems and climbing calls
Indoor to outdoor climbing transition
General climbing and cliff edge safety
On this course you'll also learn to select and use the latest in modern Abseiling and Rock Climbing equipment. Throughout the first day your instructors will accompany you on a special selection of graduated climbs.
The second day of the course is devoted solely to the simple joys of climbing, with your instructor aiming to take you on as many varied climbs as possible. The object will be to learn and develop your skills and techniques as you climb! This is the ideal course for the beginner or indoor gym climber who wants to make the transition to real rock.
After this course you will be able to competently climb with experienced leaders on short moderately graded rock climbs.
All technical equipment is supplied as well as highly trained instructors to ensure your adventure is safe, fun and exhilarating.

We'll also picnic amid the beautiful bush, with a tasty lunch supplied- Please be sure to inform us on your booking form if you have any special dietary requirements!