Canyoning - Advanced - Butterbox Canyon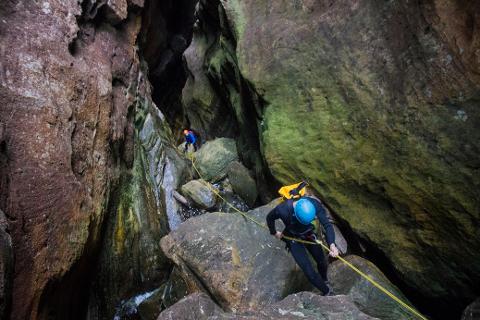 Duration : 9 Hours (approx.)
Location: Katoomba, NSW
Product code : Butterbox
This trip runs with a minimum of 2 participants- We suggest booking in with a friend to ensure you get to attend on your preferred date!


Before your booking is processed & confirmed we will contact you to discuss your previous experience and suitability for this trip.
This is a very technical canyon involving the most rope work of any canyon near Katoomba- If you like abseiling in Canyons, this is one awesome trip!
We leave from Mt Hay and after a short entry walk across beautiful heathlands, we find ourself in the top of the canyon. As the canyon walls slowly close in we will descend approximately 330m vertically through abseils, down-climbs, scrambles and waterjumps. The highlight of this trip is the Chockstone Abseil- 20 meters down on to and then 20 off of a small boulder wedged above waterfall. The Canyon at this point is massive- Huge walls on both sides for the water noise to reverberate off. An experiece you won't soon forget!
The exit of this canyon sees us gain 350m of elevation in a very short time. The gradient even reaches vertical and requires a rock climb to gain the next ledge up on the cliffline (Climb is approx 12m tall, approx grade 12, with 100m+ of vertical exposure to the valley below).
Good fitness is absolutely necessary for this canyon.
Technical Grade: Hard
Fitness Grade: Hard
Uphill Walking: 2.5 hours including a short rock climb