Canyoning - Advanced - Whungee Whengee Canyon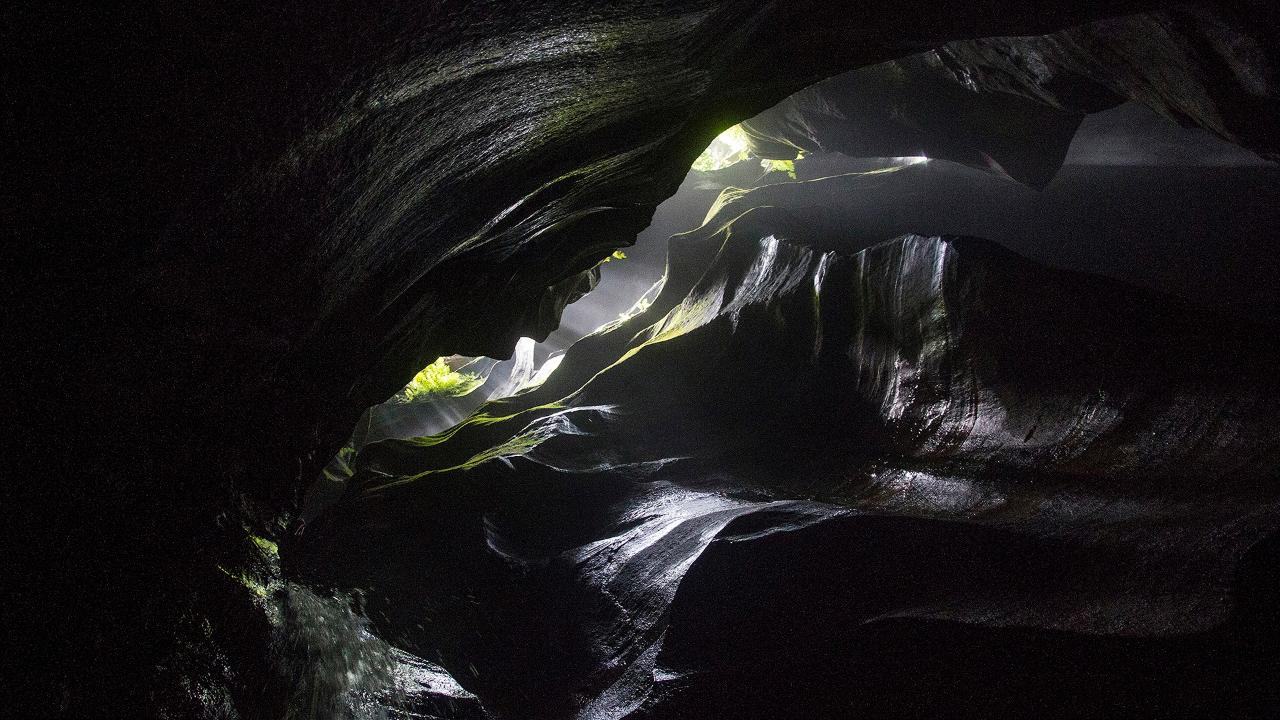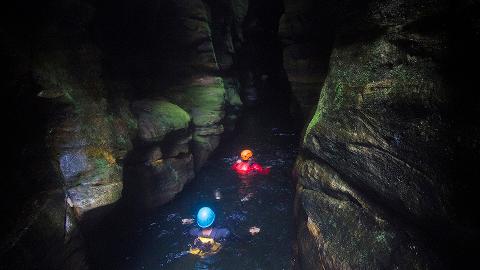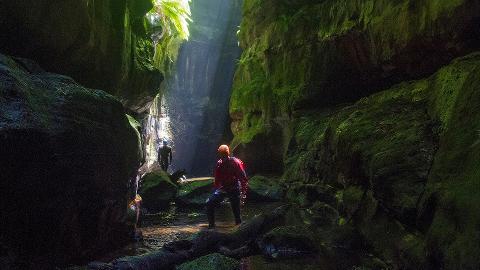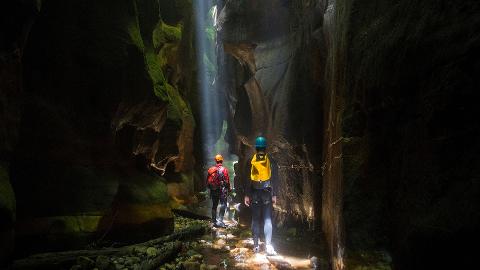 Duration: 9 Hours (approx.)
Location: Katoomba, NSW
Product code: Whungee
Before your booking is processed & confirmed we will contact you to discuss your previous experience and suitability for this trip.

For many this canyon defines what Blue Mountains canyoning is all about. We start our day from Mt Wilson and descend down to the Wollangambe river. A moment to cool off our feet is followed by an arduous climb up the far side of the river, onto a long ridge that takes us to the top of our canyon- The entry walk takes us approximately 2 hours.
Our first abseil drops us down 15 meters in to Whungee Whengee canyon and the fun begins soon after. Throughout this canyon we will do 3 more abseils and lots of scrambling, squeezing and swimming through fantastic green sections that simply can not be rivaled.
This canyon involves advanced obstacles which will require you to swim through dark tunnels, grovel through pitch black cave squeezes and swim underneath boulder obstacles (water level dependent). This trip is not suitable for the claustrophobic.
The end of Whungee Whengee features the best section of slot canyon to be found near Mt Wilson, narrow, deep and extremely humbling. From here we proceed down the Wollangambe river. Lots of long swims, scrambles and boulder hopping take us to our exit point, and our 2 hour walk back to our vehicle.
This day involves approximately 600m of elevation gain, through 3 hours of uphill hiking.
Technical Grade: Hard
Fitness Grade: Hard
Uphill Walking: 1 Hr in morning, 2 Hours in afternoon
Time: 9 - 10 Hours (group size dependent)
Adventure prerequisites:
Good fitness is absolutely necessary for this canyon
Previous Abseiling experience
Comfortable in tight spaces and the dark
What's included:

Australia's most experienced Adventure Guiding & Outdoor Training Specialists

Nationally Qualified & Highly Experienced Guides
All Technical Equipment
Delicious & Nutritious Lunch
We provide all specialist personal and group abseiling equipment including harnesses, helmets, etc.
After we process your booking an information sheet detailing specific equipment and dress requirements will be sent to you.
Lunch is also provided on this adventure- Please be sure to inform us on your booking form if you have any special dietary requirements!
If you do not receive an immediate booking confirmation you may be the opening booking for this activity, our office will contact you shortly to confirm your booking.