Canyon 4 - Canyon Leader's Course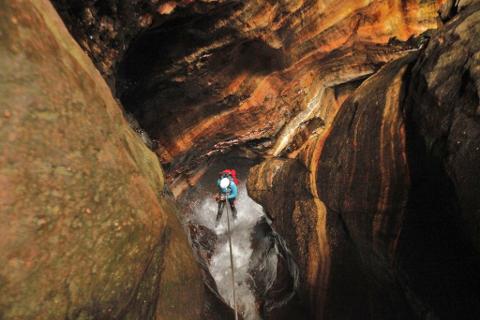 Duration : 4 Days (approx.)
Location: Katoomba, NSW
Product code : Canyon4
This trip runs with a minimum of 2 participants- We suggest booking in with a friend to ensure you get to attend on your preferred date!

If you don't receive an automatic confirmation, you are likely the first booking for this activity- Please call us on 0247 822 014!
Effective leadership is easily the most critical element in ensuring the correct management, safe conduct and successful outcome of any canyoning expedition.
The ASM Canyon Leaders Course is a four-day course designed to provide participants with the skills and techniques required to become capable Canyon Leaders, and will give you the foundation for further qualifications. The ASM Canyon Leaders Qualification integrates current best practice Canyon Leader Training and is aligned to Nationally Recognised units of competency.
The Canyon Leaders Course is ideal training for School Teachers, Outdoor Education Staff, Climbing Instructors and Adventure Training Leaders.
Subjects covered in this course include:
Canyon abseil anchors (Removing old & Building new)
Retrievable Rope Systems
Rigging for rescue & efficiency
Self-belaying methods
Self-rescue techniques
Belay systems for others
Dealing with emergencies such as a "stuck" abseiler
Basic rescue systems
Rope handling
Ascending ropes using
Improvised Methods
Improvised Abseiling Methods
Rescue Abseils
Lowering and Raising systems
Descending past a knot
Ascending past a knot & top edges
Complex hauling systems
Complex lowering systems
Backing up anchors and anchor components
Trip Planning
Recommended equipment
Group workshopping of emergency scenarios, including benightment
Group Management
Environmental Protection
Risk Assessment and Management
Technical briefings for participants
Safety Briefings for participants
This course will ensure you are a capable canyon leader who is equipped to manage the dynamic situations found whilst canyoning. You will be skilled to tackle emergency situations should they arise.
We provide all specialist personal and group abseiling equipment including harnesses, helmets, etc. After we process your booking an information sheet detailing specific equipment and dress requirements will be sent to you.
Lunch is also provided on this adventure- Please be sure to inform us on your booking form if you have any special dietary requirements!