Certificate III - Guide Single Pitch Abseiling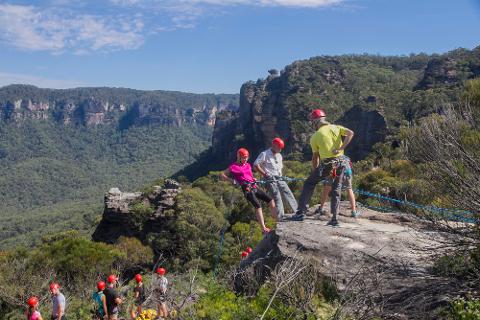 Duration : 4 Days (approx.)
Location: Katoomba, NSW
Product code : CIIIAbseil
ASM offers Single Pitch Abseil Guide - Natural Surfaces qualifications through a partnership with 5 Star Training and Consulting Pty Ltd (RTO ID 91664).
If you are interested in Canyon guiding this qualification is also available in combination with our Certifcate III in Single Pitch Canyon Guiding at a discounted rate. We typically run the combined Canyon & Abseil course more frequently than the stand alone Abseil course.
This training is designed for professional outdoor instructors, outdoor centre staff, teachers, defence personnel, outdoor club leaders and other professional and recreational based users who want to gain the skills of a Single Pitch Abseiling Guide and a nationally recognised qualification.
This qualification integrates current industry best practice with the following Nationally Recognised units of competency:
SISOABN304A Establish ropes for single pitch abseiling on natural surfaces
SISOABN303A Apply single pitch abseiling skills on natural surfaces
SISOABN202A Safeguard and abseiler using a single rope belay system
SISOABN305A Guide abseiling on single pitch natural surfaces
SISOABN301A Perform Vertical Rescues
This training is appropriate for those with previous abseil and/or other roping experience. Prior experience in a guiding or supervisory capacity is also of benefit.
The training is delivered as a four day intensive of technical training followed by a minimum of three days work experience and private practice. The assessment is two days and incorporates simulated rigging and rescue scenarios as well as a day guiding clients of ASM.
Upon payment of your course deposite you are also entitled to 20% off at our partner store - Paddy Pallin Katoomba.