Abseiling 4 - Abseiling Leader's Course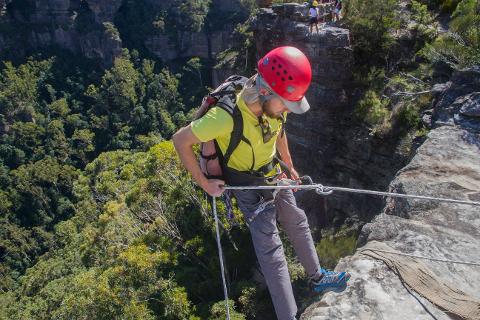 Varighed : 4 Dage (Ca.)
Sted: Katoomba, NSW
Produkt kode : Abseiling4
This trip runs with a minimum of 2 participants- We suggest booking in with a friend to ensure you get to attend on your preferred date!

If you don't receive an automatic confirmation, you are likely the first booking for this activity- Please call us on 0247 822 014!
Please note: this 4 day course includes Abseiling 2 & 3.
This training is designed for professional outdoor instructors, outdoor centre staff, teachers, defence personnel, outdoor club leaders and other professional and recreational based users who want to gain the skills of an Abseiling Guide / Leader but do not require a nationally recognised qualification.
ASM's Abseil Leader Course integrates current international best practice Abseiling Leader Training and is aligned to Nationally Recognised units of competency.
ASM's Abseiling Leader Course constitutes four one-day training modules with optional work placement / skills practice and an optional additional assessment process.
This 4 day course covers:
selection, fitting and use of abseiling equipment
selection and rigging of suitable anchor systems and single pitch abseils
hazard identification and avoidance
risk management strategies
self-belaying methods
belay techniques for abseiling
dealing with emergencies such as a "stuck" abseiler
basic rescue and self rescue systems.
Rope handling
Ascending Using Knots, Mechanical Ascenders and Improvised Methods
Improvised Abseiling Methods
Assisted Abseils
Rescue Abseils
Lowering and Raising systems
Improvised Casualty Evacuation methods.
Client management
Technical Briefings
Safety Briefings
The final day of this course is used to refine your skills and workshop questions and situations that may arise during Abseiling experiences.

We provide all specialist personal and group abseiling equipment including harnesses, helmets, wetsuits etc. After we process your booking an information sheet detailing specific equipment and dress requirements will be sent to you.
Lunch is also provided on this adventure- Please be sure to inform us on your booking form if you have any special dietary requirements!
For the duration of this course you are also entitled to 15% off in our partner store: Paddy Pallin Katoomba. Our staff can help you to select the right gear for your needs and give you professional advice on it's correct use!