Learn To Lead Trad - 3 Day Course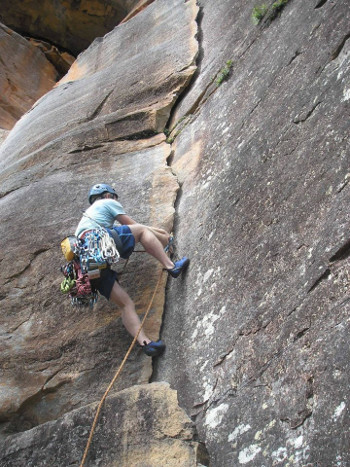 Продолжительность: 3 дн. (прибл.)
Место встречи: Katoomba, NSW
Код предложения: L2LTrad
Prior to booking this course, we recommend calling our office (02) 4782 2014 to ensure that this course is appropriate for you.
Climbing at the "sharp end" is the ultimate vertical experience!

As a budding climber the time will arrive when you feel you are ready to cast off the top ropes and learn to become a lead climber. The decisions you now make could be the most important ones of your whole climbing career! The ASM Traditional Lead Climbing Course is an excellent introduction to the specialised art of lead climbing. This course will get you well on your way to becoming an all-round, self-sufficient climber.
Our three-day lead-climbing course will teach the aspiring lead climber the skills required for safe, efficient lead climbing.
This course will give you the necessary skills to:
Undertake Traditional Climbing as a recreational activity
Select & assess appropriate trad climbs
Understand fall factors involved with lead climbing
Identify & manage risks involved within Trad climbing
Position your rope and self for lead belaying
Utilise correct belay technique for lead climbing
Select and 'rack' your Trad equipment
Place traditional climbing protection including cams & nuts
Efficiently handle and manage roping systems
Build belay anchors with Trad gear, climbing rope & cordelette
Operate belay devices in "guide mode"
Perform rescues for your seconding climber
Operate basic hauling & lowering systems
Conserve energy and utilise efficient stances for clipping & placing gear
Course participants will learn while they climb and they can look forward to leading a number of selected classic climbs under the close supervision of their instructors.
Technical Grade: Hard
Fitness Grade: Medium
Time: 3 Days
Course prerequisites:
Good fitness is necessary for this course
Previous climbing & Abseiling experience
Reasonable understanding of basic climbing knots
Experience climbing outdoor top rope climbs of at least grade 16
Experience lead climbing indoors or outdoors advantageous but not necessary!


What's included:

Australia's most experienced Adventure Guiding & Outdoor Training Specialists

Nationally Qualified & Highly Experienced Guides
All Technical Equipment
Delicious & Nutritious Lunches
We provide all specialist personal and group abseiling equipment including harnesses, helmets, etc.
After we process your booking an information sheet detailing specific equipment and dress requirements will be sent to you.
Lunch is also provided on this adventure- Please be sure to inform us on your booking form if you have any special dietary requirements!